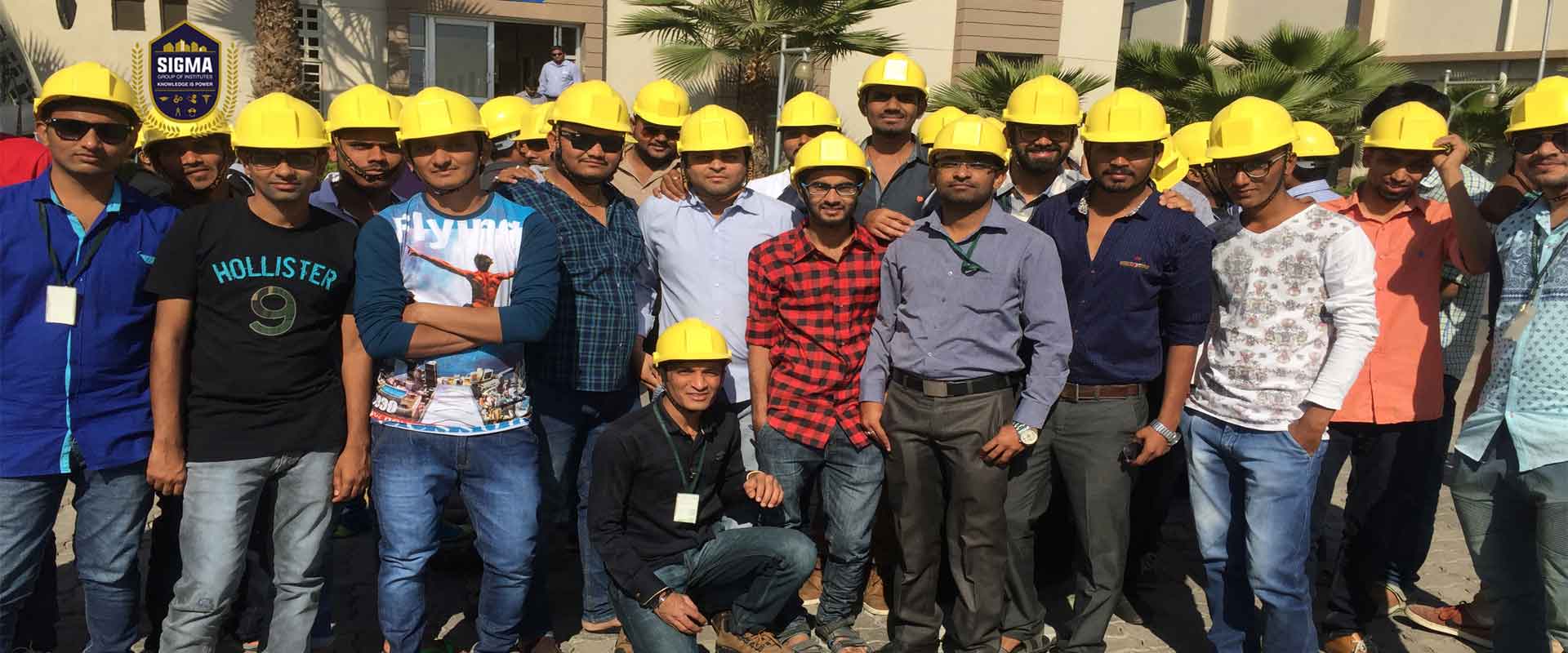 Industrial Visits plays important role in student's career & Teaching learning process. Sigma Management has proactively taken the step much before university suggested to deploy students to the Industry. Sigma management adopted Compulsory two relevant Industrial visits per semester. Total 4 per year & 16 visits per Graduate Program. Each & every student of Sigma group should keep a pace with current Technological Development. Technology is changing very fast & as we all know curriculum can never coup up with this changes. A student when they visit Industry they get much information regarding technology, applied knowledge & visualise what is stored in future for them. The Visit & Visit report writing exercise provides them experience of many aspects like team building , behaviours Do's and Don'ts , Technology , manufacturing Process & will get tempted to explore more knowledge on their area of Interest. Students will be tempted to become more Productive or will think to become entrepreneur if broaden the Horizon. This move will bring out creativity & out of box thinking among students. This visit not only gives benefit to all stake holders but fuels national growth engine.
Industrial Visits for Pharmacy Student
SBIT is one more boon to students by Sigma Management. We have synergy with many industry partners. We created the platform for students to spend vacation time with Industry. Two weeks duration with Industry of their choice helps them to have an exact feel of current Industrial scenario applications of theory what they are learning. Though University have not adopted sandwich curriculum mechanism Sigma Group have adopted this practice to improve learning process. During this training period he can find many questions & problems gathered in his report book. When he comes back to institute he can take help of learned teachers to find answers & solutions. Management offers such opportunity to students right from year one. This helps students to grab multiple training opportunities before completion of academics. Student will get hands on experience many times & will be able to overcome fear much before when they are finally exposed to real world.
Sigma Innovation Garage (Projects):
With this concept Sigma management is promoting move of Do It Yourself. Our Hon. Chairman has a vision to make students entrepreneurs Instead of becoming graduates loitering merely for Jobs. Sigma Management have created facility of Garage: Hobby centre for students where they can utilise spare time. The students can make use of this Centre which equipped with all necessary raw material, tools, machine & equipment's needed to convert their innovative project idea in to reality. Sigma students have created many innovative projects with help of this facility. Even Press & Media have also appreciated our student`s projects regularly. Management have set an example by way of financing innovative projects which are beyond scope of student`s Financial capabilities.